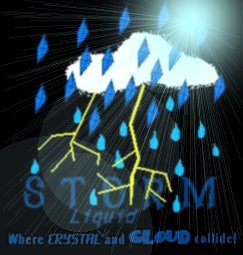 STORM VERSION

You thought we ruled before?

Now we rule even more!

...and our battles aren't bad, either.

Welcome to Storm.


Red Version | Liquid Version | Cloud Version | Crystal Version

Archives | Fanbattles | Eye of Storm | Biographies

October 24th, 2003 - What's this? An update? Surely not!

(Confused by the colors? WE JUST ADDED ANOTHER ONE SO HAHA. But really, it's not that complicated - Orange is Kite, Yellow is Duo, White is Toby, #A4A400 is Comic. The occasional dark green will be our resident Green Text Sheep. All other colors should be as you're used to them on other Poké Battles network sites. If this is too complicated for you, then you may need a brain.)

LAST TIME, ON DRAGON BALL Z!
I thought we were done with the Dragon Ball Z jokes?
Apparently not.



STORM VERSION: REVENGE OF THE GENERIC EVIL MONSTER!



Duo, tell Kite not to start the car!
KITE started the CAR!
...and CRASHED it!
Dude, you didn't even accelerate.
ph33r.

I'm pregnant!
I'll be a daddy...
I'll be a daddy...
ALL: GASP!
Bah _
You too?
Wow, small world.

CHARGON: If you strik3 m3 down I will only get stronger than you could possibly imagin3! And
then I will 0wnz j00!!!! And then take your b33r.
SUPEREVILDUDE: You Storm Troopers think you may have won, but you are about to face your
greatest defeat!
CHARGON gets SUPER BIG!
Oh no, what shall we do?
Quick, call on the COFFEEZORDS!
GO GO STORM RANGERS!
...Actually I don't think I'll be going anywhere.
TOKYO is DESTROYED!
Think a coffee store is open?

STEVE IRWIN: Yeah! Lookit these Storm Webmasters! Ain't dey beauts? Let's watch them in their
natural habitats...

Battle #39: Truth or Dairy
Date: Friday, October 24th, 2003
Authors: Kite, Toby, Comic

Setting: Non-descript battle locations have never bothered you before.

We have something we must tell you.
For the last few years, we've been living a lie.
We don't really like coffee.
AUDIENCE used GASP!
AUDIENCE has BAD ASTHMA!
AUDIENCE fainted!
Oh dude you should have that looked at. They have inhalers and stuff now.
In fact, what we really love is CHEESE!
FANS demand a recount!
There was a vote?
I thought this was a dictatorship.
I dictate, Toby writes down what I say. That's how we do things.
I resent that.
You wrote down what I just said, didn't you?
Well... yeah.
Oh, and forget convenience, today Duo is being played by a... delicious...attractive block of
cheese.
Kite, you scare me sometimes.
Stop looking at me like that Kite...
KITE used LEER!
DUO begins to MELT!
You know Duo, I'm awfully fondue of you.
KITE breaks out FONDUE FORK and BREAD!
You know, if I wasn't a melted block of cheese, and had a brain, I would think some mildly
perverse stuff was going on here...but since I'm not *gurgle*
KITE used EAT!
It's super effective!
DUO was fully EATEN!
INDIGESTION wants to fight!
Ugh...who left the Duo out overnight?
KITE used ITEM: PEPTO BISMOL!
It's super effective!
INDIGESTION fainted!
Think we milked that one for all it's worth?
Kite, you just ate Duo! How are we going to finish the battle now?
Well we never needed him before.
Point, let's go get a spare Duo out of the fridge.
TOBY checks FRIDGE!
Gorgonzola, chedder, swiss...ah, found the Duo.
Wild CHEESE appeared!
TOBY used HAND!
CHEESE is an INANIMATE OBJECT and thus could not ESCAPE from the HAND!
CHEESE was caught!
Ugh, that cheese reeks man!
Exactly. He does nothing and he stinks. I hardly notice any difference.
CHEESE was renamed DUO!
STORM WEBMASTERS loaf around!
You know, cheese would go great with that loaf...
NO! NOT AGAIN!
You know, this is a rather, 'comic' moment.
COMIC appeared!
Hey guys, Looking good Duo - haircut?
...
Fine be that way, I challenge you to a duel!
COMIC wants to FIGHT!
DUO is a BLOCK OF CHEESE!
RIDICULOUSNESS greatly rose!
Oh, this is fair. Duo's a block of cheese, and Comic has motor functions.
Also, Duo lacks opposable thumbs.
Oh right, and who's going to get that joke?
...pretty much all of our readers.
He has a point you know.
Of a SWOR-
No.
...damnit.
COMIC used DOUBLECLICK!
HEELS were clicked TWICE!
COMIC was fully HEALED!
I didn't see him actually take any damage, did you?
He moved all of 5 feet! That would take the wind right out of me.
COMIC used SLICE!
We're not going with a "cut the cheese joke", are we narrator?
I do have a LITTLE dignity...
DUO was SLICED!
WHEY to go Comic!
Where did you get that one from?
WHEY! It's a dairy joke!
It's a bit of a stretch
Think the audience will get it?
I tend to think that people who read this are at least stupider than I am. I have no trust in our fanbase.
More stupid.
Your mom!
The correct grammar is "more stupid".
Your MOM is correct grammar!
And this is the level of genius he wants us to compare the fanbase to?
Duo, you may be looking better today, but you're just as non-responsive as ever. For that, heads will roll!
Suppose he means heads of cheese?
LETTUCE comes in heads, not cheese! And you thought I was stupid, hah!?
This battle is a piece of cake!
Cheese cake?
This battle is making me hungry.
TOBY eats GORGONZOLA!
It's GORGONZALICIOUS!
Why is Comic getting so many attacks in?
Being a block of cheese tends to decrease your SPD.
COMIC used DICE!
COMIC rolled a D20!
Critical Miss! (Coming to a website near you! Schedule your pre-order for episode 1 today!)
DUO's DEFENSE grately fell!
Wait, I think his ATB bar is full! Let's see what Duo does!
DUO used POWER OF CHEESE!
It's super effective!
COMIC eats DUO!
Behold, the power of cheesy writing...
I just...couldn't resist anymore...
CHEESE expired!
Hey, that's a pretty gouda move.
It bleu me away!
Eh, he was just stringing him along the whole time!
It's no cheddar than anything you've done, Kite.
COMIC wins!
This means I get to replace Duo, right?
That was a block of cheese. You can replace that, if you like.
Duo has a contract with us till battle 300.
...So why did you let me do that?
Cause it's funny watching a man have a life-or-death battle with CHEESE.
I would have gotten away with it if it weren't for you meddling kids, and your cheese too!
Get away with what?
Get away with THE REST OF THE GORGONZOLA!
No!
Not the gorgonzola!
SUNSET appeared!
WEBMASTERS rode off into it!
BATTLE ends CHEESILY!
...wouldn't have it any other way!

View/Post comments on this battle.